Pros
Perfect service for enthusiasts of Fantasy Sports
Best odds for Aussies
Good tote
Wide selections of sports events
Top mobile app
Cons
No Streaming (yet)
Not as many markets as giant international competitors
PlayUP is a new bookmaker, which maintains maximum comfort for betting today. The gambling company offers punters an opportunity to place their bets on racing and sports markets via a convenient website or the iOS and Android apps. A large number of markets and a spread of events contribute to the fact that everyone will be able to choose the right option individually.
Play UP website offers various bonuses and promotions for newcomers and regular players, which makes betting on sports even more profitable. Every month, you can find the odds on more than 70,000 pre-match events and more than 40,000 live matches. One more great thing about the brand is the single PlayUP wallet which can be used between different PlayUp brands.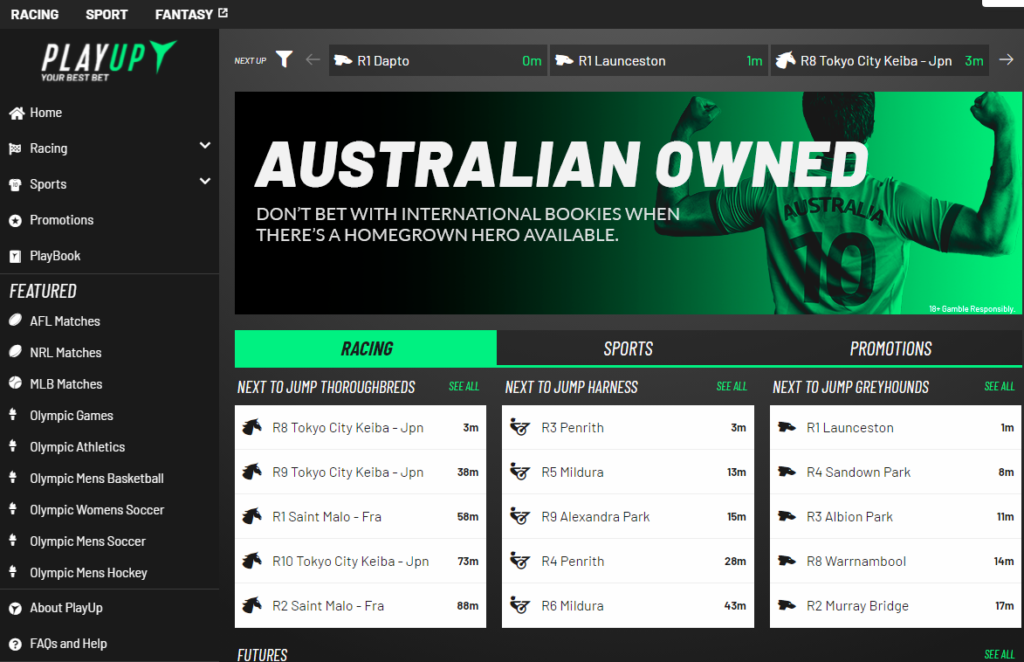 About PlayUP
PlayUP, an Australian bookmaker, is headquartered in Sydney and licensed in the Northern Territory. The site itself was launched in October 2019, after the merger of three brands — MadBookie, ClassicBet, and PlayUP TopBetta. In turn, it has resulted in the fact that PlayUP Australia actually has no competitors in the local industry, offering the broadest list of betting options and markets.
It should be noted that the owner-company also operates the daily fantasy sports service Draftstars. That said, players have to understand that PlayUP is not exclusively an Australian product, as PlayUP Australia Pty Limited is owned by PlayUP Limited, an international company with offices in Melbourne, Hong Kong, and Darwin.
It is an official partner of Rabbitohs and Newscorp. Collaborations with such corporations influence the choice of bets positively: you can find betting options on the NRL, AFL, Tennis, Cricket, Football Australia, Rugby, and PGA within this bookmaker's services.
Services and Features
| | |
| --- | --- |
| Deposit methods | Electronic transfer, VISA/MasterCard, Bpay, POLi, Paysafecard |
| Withdrawal methods | Credit card payment via VISA/MasterCard or bank transfer |
| Gaming currency | Australian dollar |
| UI language | English |
| Format of odds | Decimal |
| Minimum deposit sum | 10 dollars |
| Minimum bet amount | $1 online or $50 by phone |
| Deposit wagering | х1 |
| Mobile bets | Mobile version of the official website and app for iOS and Android |
| Verification | Identification is done online, and there is an automatic personal identity verification |
| Support assistance | Email, phone, and online chat. Opening hours are from 7:00 a.m. to 11:00 p.m. Australian time |
| Commission for an inactive account | If there are no replenishments for 12 months, then $10 per month will be charged additionally |
| Bonuses and promotions | There are weekly promotions, including Play of the Day, refunds for express betting, etc. |
PlayUP Betting Markets
PlayUP bet options are represented in a large number of markets, including sports and racing. The merger of three different bookmakers has helped this company to significantly expand the range of markets available. Here enthusiasts will find various entertainment solutions, especially those that are particularly in demand among Aussie punters.
Sports Markets
Overall, the list of popular deals includes such sports as basketball, cricket, derby, football, and more. Let's take a look at each market in more detail.
Football
There is a wide selection of bets on pre-match and live events. There are events not only from the domestic soccer leagues but also the English Premier League (EPL) La Liga, Bundesliga, Serie A, European Championships, Champions League and other club tournaments or national team competitions – World Cup, Euro, Copa America etc. There are betting options for major outcomes, handicaps, totals, the best player and so on.
AFL
Play UP betting on Australian football has the widest possible schedule. There is a rich collection of events for different divisions with a widespread, so everyone can find a suitable betting option for their own interests and budget. There is a possibility to watch online broadcasts directly on the website or through the application of the bookmaker's office.
NFL
Huge coverage of events is presented for American football too. Punters have an opportunity to make popular bets on the total at the start of the season, the total during the season, bets on favorites, bets on the home team and the Super Bowl.
Baseball
Betting on the American League baseball is performed in a wide spread. There are variants of bets on a victory of one of the teams, a victory with a handicap of one of the teams, total, etc.
Ice Hockey
Bets on hockey are in high demand among players. There are domestic championship events, as well as bets on international championships.
Horse Racing
This type is in high demand among Australian and New Zealand punters. Horse racing betting is presented as a separate section of the PlayUp website. Fixed odds betting is offered for all forms of racing and are usually displayed on the day of the event (apart from Saturday events). Here you can bet on the victory of a particular race participant, patent, accumulator, single/double/treble bets, the queue of the finishing participants, and more. Greyhounds and harness racing are also presented in the bookmaker line. You can find Best Tote + SP Win for bets and Mid Tote for win and place for typical horse racing events in Australia and New Zealand.
Other Markets
In addition to football, hockey, baseball, and horse racing, there is a great divergence of other sports, such as cricket. This allows each player to find the most soulmate betting solution.
Politics
PlayUP bet options offer numerous political events to test your analytics skills. Gamblers are welcome to bet on different political events in a particular country or in the world as a whole. For example, you can try to predict who will be the next Prime Minister.
Reality TV
This activity is an excellent choice for fans of reality TV to guess who out of the participants will fail and who will win. Although the roster is quite sparse, it allows you to add excitement when watching favorite shows.
PlayUP Bet Types
The player will be able to bet on sports, choosing a variety of classical markets such as Final Result, Double Chance, Totals (Over/Under), Both teams to score, different types of handicaps (Asian, European), smallmarkets etc. Among the main outcomes, the following are highly sought-after between the punters who prefer horse racing betting:
Victory — it is the most popular type of all bets. All you need to do is to decide which participant/team is going to win at the end.
Place — this is a great betting option in horse racing, where you can choose the contestant who will finish and receive gold, silver, and bronze medals. More than 8 horses must take part in the race to get the winnings for third place.
Kinella — it requires the player to select one or two horses to finish in any order, which will take a particular place.
Exacta — it requires the player to select the first two horses to finish in order.
Trifecta — it is quite a complicated betting option in which you will need to select the first three horses in order, but they can finish in any order. This method is distinguished by high odds.
First 4 — this betting variant is similar to the previous one. The only difference is that the bettors have to choose the first four horses in the exact order. It offers a marvelous opportunity to win large prizes.
Running double — doubles races, customers must choose the winner of consecutive races at a particular meeting.
Double bets — the player chooses the winner of the two designated races. They are available when the "Daily Double" and "Running Double" betting types are available.
Trebles — triple bets are available when the customer chooses the winner in three assigned races.
Super 6 — the client chooses the winner of six consecutive races.
Multibets — it is the combination of several single bets to multiply the amount of winnings. This is suitable for all kinds of sports.
The listed types of bets are relevant only for horse racing, but for other sports, such as football, other stakes are added.
Betting Interface and Website Layout
The interface of PlayUP's official website is one of the bookmaker's strong points. A dark color scheme with the signature green color is applied, so all sections can be viewed without too many problems. The sports betting and horse racing menus are on the left side of the page. and the selected markets are in the center of the screen. User coupons are located on the right.
The official site of the bookmaker's office is as simple as possible in terms of use and has all the necessary features for comfortable betting on sports. The horse racing coupon can be seen at the top of the page — a great feature, as you will be able to place a bet quickly. The design of the betting panel includes access to sports and leagues, odds areas, and coupons. Keep in mind that the standard PlayUP page doesn't adapt well for small screens of gadgets, but there is a special mobile application for smartphones and tablets.
When you visit the "Sports" section, you are offered to pick up among an expanded variety of activities to enjoy. The markets and odds for them are arranged in a convenient and familiar way for experienced gamblers, but the logical structure won't cause any difficulties even for non-techno-savvy users. When you select the "Market" section, the corresponding odds are displayed. All this can be done without reloading the page, so betting will be as comfortable and convenient as possible. This approach has stood the test of time and proven its sufficiency for customers. Alternative methods that are preferred by other service providers may actually slow down the search for a particular market.
The interface of the bookmaker's virtual establishment is clear and smooth, so that absolutely every visitor will be able to understand it without any problems and thus enjoy the game to the full extent, without the need to dive into a complicated and exhausting learning curve to figure out how the platform functions.
Step by Step Guide to Placing a Bet with PlayUP
Many beginners who have decided to do PlayUP betting may face difficulties. Let's consider how to bet on sports on the example of horse racing:
Step #1: Before you bet on sports, you need to download the official website or app, then proceed with PlayUP login. In the menu, you will be able to select the market. This menu is located on the left side of the main page of the official site. You need to click on "Races" or "Purebred Races". In addition, you can click on the Racing "Next To Jump" shortcut, which is located on the left side of the main page.
Step #2: The "Race Summary" page will open in front of you. Each of those races that are about to start is displayed with a countdown to the start. You just need to click on the race you are interested in. The Australian races are always at the top. Depending on your personal preference, you can switch between Futurity, Harness, Horse and Greyhound.
Step #3: You will be forwarded to the page where you can see the available betting types on the top tab, as well as the competing horses and the corresponding prices on the right. You will need to select a runner by clicking on his odds field in one of the columns on the right. You can choose fixed odds or one of the Tote Price options.
Step #4: The coupon will automatically pop up on this page. You will need to manually enter the amount of money you want to bet on this bet. The only thing left to do is to confirm the bet placement – just in a button click.
PlayUP Mobile App
In addition to the standard official website and mobile version of the site, you can also download the PlayUP app. The app is suitable for iOS and Android gadgets. The app is absolutely free and works on all devices based on these operating systems. It should be noted that the functionality of the app is not different from the official website — players do not get any restrictions. You will also be able to register, make a deposit, make bets and withdraw winnings.
The advantage of the mobile app is that it provides a login via pin code, and this is most convenient if you want to bet quickly on sports. After all, there is nothing worse than constantly entering all your login details in live mode. This way, making a quick bet is definitely not possible.
The design of the application is similar to the official domain — it also has a dark theme with green shades, which isn't distracting customers' attention with overly bright tones during the play. According to experts, the application PlayUP is one of the easiest and most convenient among Australian bookmakers.
PlayUP Promotions
PlayUP promotion suites are presented in quite a wide rage. PlayUP sign up bonus and other bonuses are available to absolutely all registered users. At the same time, in order to retain customers and to encourage the most active players, the list of promotions and bonuses is actively updated. There may be new promotions in honor of some major political events or holidays.
The weekly promotions are left unchanged, including special offers with cashback on express bets and the popular "Play of the Day" offer for the chosen runner every week. But no matter which promotion or bonus interests you, be sure to study the terms of the promotion carefully. It's important to remember that all bonus money must be wagered. Also, you will be able to refuse promotions and bonuses from the PlayUP bookmaker's company.
Deposit/Withdrawal Information
If you want to start betting on sports, you not only need to register, but also make a deposit. You can perform the deposit procedure by means of the following payment systems: Visa, Mastercard, BPay, POLI, Paysafecard, electronic funds transfer. PlayUP limited amounts to deposit funds directly depend on the method of depositing — up to $100,000, and the minimum amount — $10.
In order to make a deposit, you need to log in to your account, go to the "Deposit" section, choose the appropriate payment method, indicate the deposit amount and confirm your wish to make a deposit.
To withdraw your winnings, you must also log in to your PlayUP account, click on "Withdraw" and select the desired withdrawal method, taking into account the appropriate processing time and transaction limits. Keep in mind that credit card clients will have to return the amount of credit card deposits made to their accounts. Withdrawals must be made to the same credit card.
Customer Support
Despite the fact the user interface is as simple and well-thought-out as possible, that doesn't eliminate all the reasons why customers can apply to the professional guidance at the bookmaker's end. There also may be some difficulties for beginners to start betting on sports. If you want to get assistance during registration, depositing or any other matter, don't hesitate to contact the PlayUP support team. There are several ways to reach out to its representatives:
Phone — feel free to call at 1(800)-752-987. They are available on Monday-Sunday from 7:00 am to 11:00 pm Australian Standard Time.
Email — you can send an email at [email protected] It's open 24 hours a day, so you can use this method at your convenience.
Live chat — it is a perfect way to get answers to your questions fast. You can access this feature on the official website. They work from 7:00 am to 11:00 pm Australian standard time. The friendliness and professionalism of support team representatives are second to none.
PlayUP FAQ
Is there a registration bonus at the PlayUP bookmaker's office?
Unfortunately, there is no welcome bonus for registration. This is due to a new law that prohibits bookmakers to offer any incentives for passing the registration. That is, players of any bookmaker's office will now not be able to claim a bonus bet after registering. But, during the game, you will be offered dozens of different bonuses and promotions, so you will not be left without nice rewards.
How to create a personal cabinet on the PlayUP website?
The registration procedure on the PlayUP domain has been made as simple as possible. You just need to go to the official website, then click on the "Registration" button at the top right and go through a simple registration procedure. When registering, enter only reliable information — it will allow you to avoid problems during account verification or withdrawing funds.
What promotions does the PlayUP bookmaker offer?
The bookmaker offers dozens of different interesting promotions, which are steadily updated. Usually, they are connected with important competitions or upcoming sports events. To find out more about them, you just need to go to the "Promotions" section on the left side of the page to see the list of current promotions.
Is my data protected at the PlayUP bookmaker's office?

All your personal and payment information is secure. The high level of data protection is one of the conditions of getting a license. The Australian bookmaker PlayUP uses 2048-bit SSL digital encryption, which is the most reliable way to protect your data and is used by big corporations. Under no circumstances, your personal information will be shared with third parties.

Can I set my own betting limit at PlayUP?

Absolutely every player will be able to set a betting limit for a session during registration or refuse such an option. If you start feeling that you are playing irresponsibly, it is possible to exclude yourself from the bookmaker's office. This is fully in line with the rules of responsible gambling.

Do I have to download the PlayUP app in order to bet?

Even if you want to play from your tablet or cell phone, you do not have to download the PlayUP mobile app. You can play through the mobile version of the site, but it is not always convenient and it is worse optimized for mobile devices than the app.

Is it possible to bet live on PlayUP sports via my phone?

Yes, every player can bet live on sports and horse racing. When you log into your account, phone betting will be available Monday through Sunday from 7:00 a.m. to 12:00 p.m. Australian Standard Time. Please be informed that the minimum bet over the phone is $50.

Are there any promo codes for the PlayUP bookmaker's office?
Considering that all promo codes are somehow related to bonus bets, which are no longer available to all players, there are no promo codes. Despite the fact that there are no promo codes, the bookmaker is actively working to offer its customers alternative promotions and features that can offset the lack of promo codes for bonuses.
How fast is the money withdrawal at PlayUP?
Regardless of the withdrawal method, the withdrawal is processed after 13:00 from Monday to Friday. The only exceptions are public holidays. If the withdrawal request was received by 11:00, it will be processed the same day. If later, then the next day.
How can I confirm my account at PlayUP?
If you want to confirm your account, you need to go to "My Account" on PlayUP, where there is a "Confirm" tab. When you select this tab, automatic identity verification will be attempted using various online databases. Note that you will be prompted to enter additional information, such as your driver's license number, to complete the verification process.
PlayUp Australia Review 2021 Details